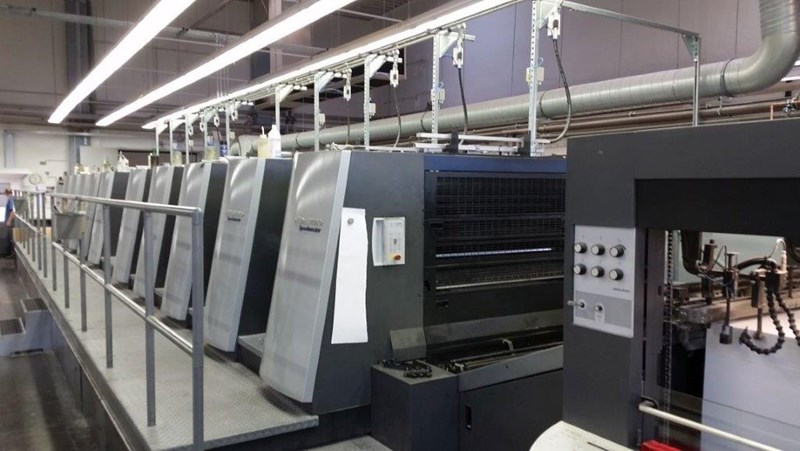 Click image to view gallery
Ref: 49964
Perfecting: 5/5
Printec ImageControl
Equipment:
PrintecPressCenter
Wallscreen Hardware
DBK-device
PK Steam control
Stack plate feeder retractable
2 add. Moduls Impression cylinder wash up device
2 add. Moduls Blanket sheet wash up device
Package IPA reduced printing
PH-Sonde control of dampening soulution of CombiStar
Technotrans cooling and ink temperture control CombiStar CAN open watercooled, with AlcoSmart
PowderStar AP 500 Duot
CleanStar
exhaust hood CleanStar
Stack plate in delivery retractable
AirStar air cabinet, water cooled
Noise reduction
StaticStar Compact in feeder and delivery
RSP Inline finishing System
S/W Press Center Wallscreen Application
Heidelberg Autoplate Advanced
Preset Plus feeder
Preset Plus delivery Version X0
Autom. Ink roller wash up device
Autom. Impressions cylinder wash up device
Autom. Blanket sheet wash up device
Hycolor
Heidelberg Perfecting
Perfect Jackets
S/W Press Center Intstant Gate
S/W Press Center Color Assistant
S/W Image Control Interface
Printec ImageControl
Informations:
Incl. Image Control
Systemservice36plus
Overhauling in work:
Pneumatizylinder and actuating cylinders, yes May /June 2015
PerfectJackets renewed, June 2015
Renewed gripper tips of the printing cylinder, transfer cylindergripper adjusted in May 2015
Machine is in production.
Available:
Immediately
More Info